DBA Africa Management Review : is a quarterly publication of University of Nairobi, School of Business, Nairobi, Kenya.
It is a business and management journal in various Thematic areas
Strategic Management
Insurance and risk management
Marketing Management,
International Business
Supply Chain Management
Financial Management
Human resource Management
Production and Operations Management
Procurement Management
Entrepreneurship and Small Business
Public Management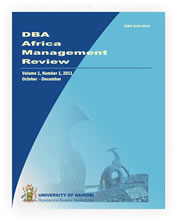 Announcements
3RD DBA-AMR INTERNATIONAL CONFERENCE 24TH FEBRUARY 2017

THEME: "DRIVERS OF BUSINESS GROWTH IN EMERGING MARKETS"
Venue: University of Nairobi, School of Business, Lower Kabete Campus,
Nairobi, Kenya
Posted: 2016-11-16
More...

DBA-AMR 2016 : 2ND DBA-AFRICA MANAGEMENT REVIEW CONFERENCE



Posted: 2016-02-18
More...

CALL FOR PAPERS

sub-themes

Knowledge Management
Enhancing Youth /Graduates Employability
Research and Innovation in Emerging Markets
Entrepreneurial Finance
Revenue Realization an Accountability
University's Role in Fighting Corruption
Responsible Business Ethics

Posted: 2016-02-18
More...
The Africa Management Review is published quaterly by the Department of Business Administration, School of Business, University of Nairobi.
For more information, contact The Editor-in-Chief email: editoramr@uonbi.ac.ke Tel +254 722306185, 720565317
Copyright © 2012. All Rights Reserved.
Site developed & maintained by ICTC, UoN