DBA Africa Management Review : is a quarterly publication of University of Nairobi, School of Business, Nairobi, Kenya.
It is a business and management journal in various Thematic areas
Strategic Management
Insurance and risk management
Marketing Management,
International Business
Supply Chain Management
Financial Management
Human resource Management
Production and Operations Management
Procurement Management
Entrepreneurship and Small Business
Public Management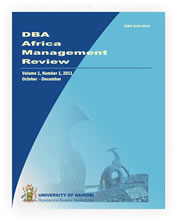 Announcements
CALL FOR PAPERS 1st Quarter 2017 Publication-DBA AFRICA MANAGEMENT REVIEW ISSN 2224-2023

 

DBA Africa Management Review : is a quarterly publication of University of Nairobi, School of Business, Nairobi, Kenya.  DBA AMR invites original papers / Management Case Studies / Book Reviews from both academicians and practitioners in the following thematic areas;

Strategic Management, Insurance and risk management, Marketing  Management,

International Business, Supply Chain Management, Financial Management, Human resource Management, Production and Operations Management, Procurement Management

Posted: 2017-05-09
More...

GAUP CONFERENCE ONLINE REGISTRATION

Online registration click the link below:

https://goo.gl/forms/N2d9GWHFgcqkaT703

Posted: 2017-04-10
More...

6th Annual Conference UNIVERSITIES, ENTREPRENEURSHIP AND ENTERPRISE DEVELOPMENT IN AFRICA-Call for Papers

Theme: Universities, Entrepreneurship and Enterprise Development in Africa

Entrepreneurship and enterprise development holds a huge potential for unlocking economic potential of African countries, reducing the income disparities and repositioning the continent strategically in the global economic, social and political spheres. Despite having a large pool of untapped natural resources and human capital, several African countries decry weak economies, poor governance and widespread poverty and human suffering. Nonetheless, universities have the chance to provide the impetus for changing the status quo through knowledge creation, dissemination and technology transfer.

Borrowing from experiences of developed countries as well as middle income countries, entrepreneurship triggers mobilization and redirecting of resources to opportunities with greater economic returns. Hence, university and industry linkages in diverse ways support enterprise development, participation of poor people in the economic process and creation of employment opportunities in Africa. Furthermore, the interaction of African universities with foreign universities promotes technology transfer to African enterprise and increases the chances of international market access through cultural awareness.

In the framework of the project "German-African University Partnership Platform for the Development of Entrepreneurs and Small/Medium Enterprises" the Bonn-Rhein-Sieg University of Applied Sciences (BRSU) together with its partner universities, the University of Cape Coast in Ghana and the University of Nairobi in Kenya organize an annual conference that is alternately hosted by one of the three partners. The University of Nairobi is privileged to host this year's conference at its main campus in Nairobi City, Kenya.

Posted: 2017-02-08
More...

3RD DBA-AMR INTERNATIONAL CONFERENCE 28TH APRIL 2017

THEME: "DRIVERS OF BUSINESS GROWTH IN EMERGING MARKETS"
Venue: University of Nairobi, School of Business, Lower Kabete Campus,
Nairobi, Kenya
Posted: 2016-11-16
More...

DBA-AMR 2016 : 2ND DBA-AFRICA MANAGEMENT REVIEW CONFERENCE



Posted: 2016-02-18
More...
The Africa Management Review is published quaterly by the Department of Business Administration, School of Business, University of Nairobi.
For more information, contact The Editor-in-Chief email: editoramr@uonbi.ac.ke Tel +254 722306185, 720565317
Copyright © 2012. All Rights Reserved.
Site developed & maintained by ICTC, UoN